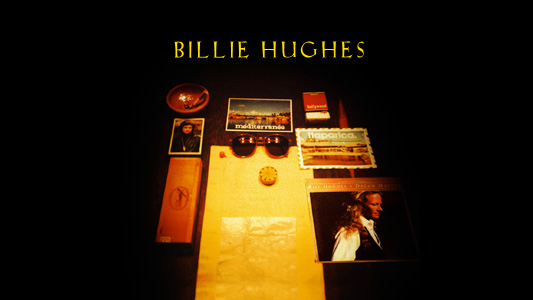 News      Awards      Bio     Songs     Now Playing     Lyrics     Discography     Gallery     Film/Video     TV    Print     Store
Billie Hughes began his recording career as leader of the group "Lazarus". In ssociation with Peter Yarrow of Peter, Paul & Mary,"Lazarus" moved to Woodstock, N.Y., signing with the newly formed Bearsville Records (Warner Bros.) label, under the direction of Albert Grossman. Two albums were recorded and released on Bearsville, produced by Peter Yarrow and Phil Ramone. In the next four years, "Lazarus" performed extensively throughout the United States and Canada. In 1976 "Lazarus" won the Clio Award for "Lifesavers" Best Commercial of the Year which ran nine years nationwide.
Billie Hughes began his solo career in 1978 upon signing with Epic Records. His "Dreammaster" LP was produced by Henry Lewy in Los Angeles. During the next four years, Billie Hughes toured the United States, Canada and Japan performing as an artist and travelled to Japan, Canada and Italy to record and produce various projects including his own hit single "Martin Eden" (CBS motion picture theme song) which charted Top 5 all over Europe.
In 1983 Hughes formed a partnership with lyricist Roxanne Seeman which set in motion a career of recording, producing, and songwriting for film, television, and records including works produced by such name producers as Phil Collins, Arif Mardin, Michael Omartian, George Duke and Reggie Lucas and included such artists as Philip Bailey, The Jacksons, Bette Midler, The Sisters Of Mercy, Randy Crawford, Al Jarreau, Melissa Manchester, and the #1 charting Japanese duo Wink, among others.
In 1991, Pony Canyon Records in Japan released Billie Hughes' CD "Welcome To The Edge," remaining in the Top 10 of the Billboard Japan chart for four months. "Welcome To The Edge" also received an Emmy nomination for Best Original Song in the television show "Santa Barbara". Billie Hughes received a second Emmy nomination for Best Original Song in the television show "Another World". March 1992, Billie Hughes performed at the NHK nationally televised Japanese Grand Prix Awards and received the award for "#1 International Single of the Year" (single sales reaching over 520,000 copies on the Pony Canyon label).
Billie Keith Hughes died July 3, 1998, in Los Angeles.
In 2001, Epic/Sony re-releases Billie Hughes' Dream Master album.
In April 2004, MGM releases Little Monsters with Billie Hughes and Roxanne Seeman's "I Wanna Yell" and two vocal performances by Billie Hughes on DVD.
In August 2004, Fuji TV releases "Mou Daremo Aisenai" with Billie Hughes "Welcome To The Edge" and "Ai To Lu Namae Nomo To Ni" with Billie Hughes "Dreamlove" on DVD.
In September 2004, the first pop concert in history was staged on the Great Wall of China outside of Beijing with Alicia Keyes headlining. Billie Hughes and Roxanne Seeman's song "Walking On The Chinese Wall" by Philip Bailey produced by Phil Collins was the finale of the event and upcoming broadcast and DVD.